Jim Thome: The Most Underrated Power Hitter of All-Time?

Who do you consider as some of the best power hitters in the history of Major League Baseball? That's a loaded question considering that MLB has been around for over 130 years! That answer will vary depending on who you ask.
If you ask someone who is older, you may hear names like Babe Ruth, Jimmie Foxx, and Ted Williams. Others may respond with Willie Mays, Reggie, Jackson, Hank Aaron, and Mickey Mantle. People around my age might chime in with Barry Bonds, Frank Thomas, Mark McGwire, and Ken Griffey, Jr. Don't forget about Alex Rodriguez, Albert Pujols, and "Big Papi" David Ortiz. There are so many guys who I haven't even mentioned that probably deserve to be in the conversation of the best power hitters of all time. After all, there are 28 Major League Baseball players to hit at least 500 career home runs. Nine of those players have hit at least 600 homers. Four have at least 700 dingers to their name.
Where does James Howard Thome rank among the best power hitters of all time?
Thome's legendary batting stance in Cleveland
His name deserves to be mentioned in the conversation because he is among the greatest power hitters in Baseball history. Jim Thome was a feared hitter for 22 MLB seasons, mainly with the Cleveland Indians – now Guardians. He also played parts of 4 seasons with the Philadelphia Phillies, 4 seasons with my beloved Chicago White Sox, and parts of two seasons with the Minnesota Twins. He also spent time in pennant chases with the Los Angeles Dodgers and Baltimore Orioles. The career home run leader for the Cleveland Guardians franchise was a 5-time All-Star and was the 2006 AL Comeback Player of the Year with the White Sox. More on those accolades in a moment.
The funny thing is that you do NOT hear Thome's name mentioned with those other guys. Those other guys are practically baseball immortals. Thome's accomplishments couldn't have been as great as those other guys.
Actually…yes. His numbers were better in some cases. Thome's career stats include:
612 Home Runs (8th All-Time)
That's more than Mark McGwire, Manny Ramirez, David Ortiz, and Frank Thomas
1,699 Runs Batted In (28th All-Time)
That's more than Mike Schmidt, Jeff Bagwell, George Brett, and Sammy Sosa
.554 Slugging Percentage(25th All-Time)
That's better than Albert Pujols, Alex Rodriguez, David Ortiz, and Ken Griffey, Jr.
.956 OPS – On Base + Slugging (22nd All-Time)
That's better than Albert Pujols, Alex Rodriguez, David Ortiz, and Ken Griffey, Jr.
1,747 Walks: Base-On-Balls (7th All-Time)
More than Frank Thomas, Albert Pujols, Alex Rodriguez
In addition, Thome's 73.1 WAR (Wins-Above-Replacement) is more than Manny Ramirez, Rafael Palmeiro, Eddie Murray, and Miguel Cabrera. Thome played in the postseason ten times in his career, including twice in the World Series. His 17 career Postseason Home Runs are 11th in MLB History. Who is the career leader in Walk-Off Home Runs? That's Jim Thome with 13! On the other hand, Jim Thome struck out more than anyone in the history of the sport, except for Reggie Jackson. Hey, at least you can't blame him for not trying!
I'm not saying that he was a better baseball player or, most specifically, a better power hitter than ALL of those guys I just mentioned. What I am saying is that Thome deserves a seat at the table. His name SHOULD be mentioned with those guys as one of the greatest power hitters ever. But it's not. Hell, the man was severely overlooked DURING his playing days! A great example of that is the best three-year stretch of Thome's career between 2001-2003:
2001 (w/Cleveland): .291 AVG, 49 Home Runs, 124 RBI, 1.040 OPS
2002 (w/Cleveland): .302 AVG, 52 Home Runs, 118 RBI, 1.122 OPS
2003 (w/Philadelphia): .266 AVG, 47 Home Runs, 131 RBI, .958 OPS
I know this was during the height of the steroid era…but DAMN! Do you know how often Thome was selected as an All-Star during this three-year stretch? ZERO. Do you know how many times he was at the Top-3 in MVP voting during this same stretch? ZERO. That's crazy! All-Star selections aren't everything, but to say Thome was snubbed in both cases would be an understatement.
In 2001, the A.L. All-Star First Basemen were Tony Clark of the Detroit Tigers (.287 AVG, 16 HR, 75 RBI), Mike Sweeney of the Kansas City Royals (.304 AVG, 29 HR, 99 RBI), and John Olerud of the Seattle Mariners (.302 AVG, 21 HR, 95 RBI). No offense to those guys, but you can't tell me they were more deserving of being an All-Star that season than Thome. That year's game was in Seattle, which meant the Designated Hitter could be used. Still no Thome. In addition, Thome was 7th in voting for the 2001 A.L. MVP. Seventh. This was despite his Cleveland Indians winning the A.L. Central. Ichiro Suzuki won the AL MVP that season. Even two of Thome's teammates finished ahead of him in the voting. Indians' second baseman Roberto Alomar (.336 AVG, 20 HR, 100 RBI) was fourth. Indians Outfielder Juan Gonzalez (.325 AVG, 35 HR, 140 RBI) was fifth. Ouch.
In 2002, the Indians failed to make the postseason, but Thome had a career-high 52 home runs. The A.L. First Basemen selected to the All-Star game was Jason Giambi of the New York Yankees (.314 AVG, 41 HR, 122 RBI), Paul Konerko of the Chicago White Sox (.304 AVG, 27 HR, 104 RBI), and Mike Sweeney of the Kansas City Royals (.340 AVG, 24 HR, 86 RBI). Again, no offense to those guys, but the argument could easily be made that Thome should have been selected over all three men. Furthermore, he finished 7th in the A.L. MVP voting. I don't have an issue with the 2002 A.L. MVP voting. Miguel Tejada won that year. His team made the postseason. Thome's Indians didn't.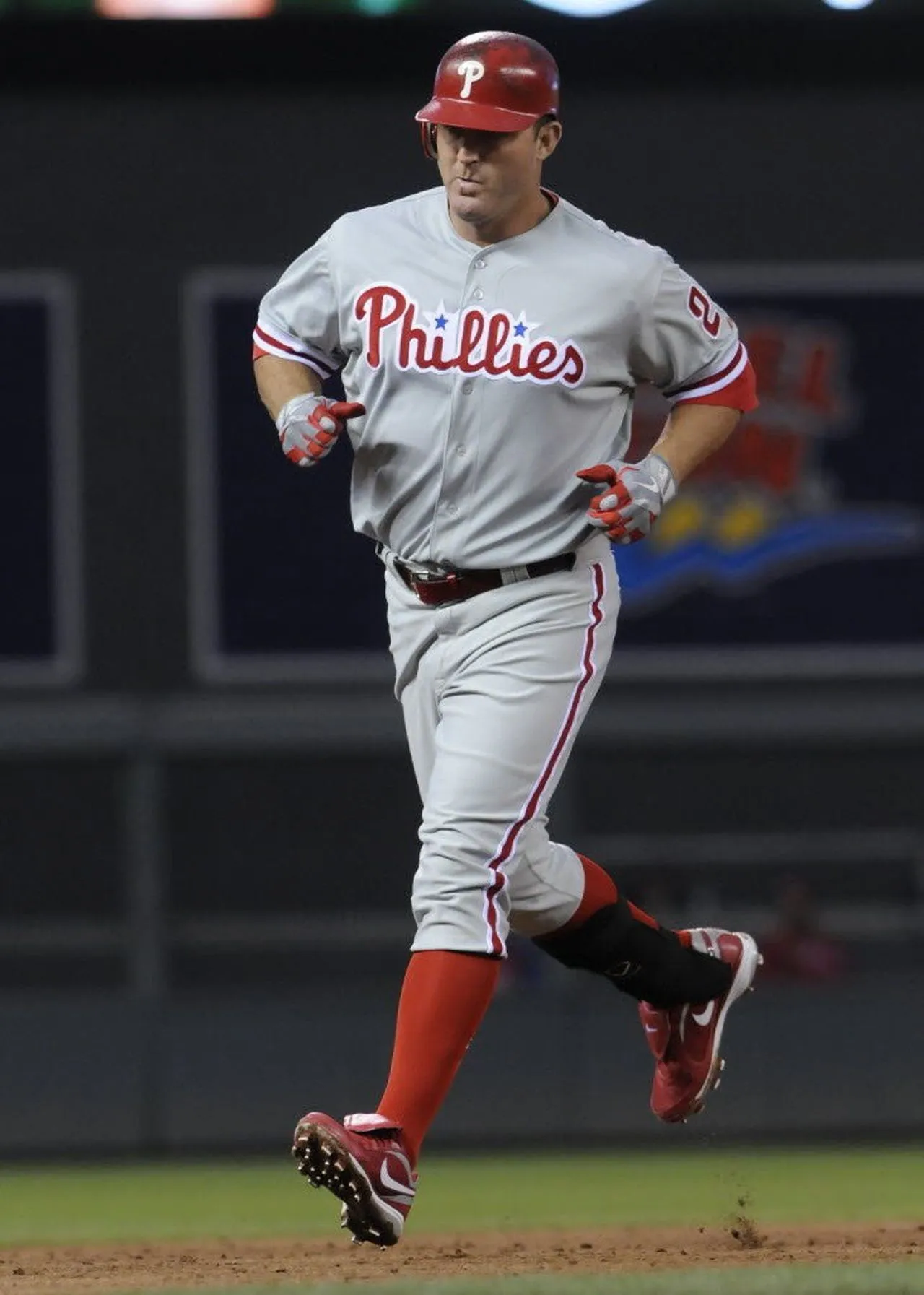 Thome played with the Phillies from 2002-2005
Thome joined the Philadelphia Phillies ahead of the 2003 season. That didn't help him from being snubbed by the N.L. All-Star team. That season's game was then named-U.S. Cellular Field, home of the Chicago White Sox. The DH could be used again. The N.L. first basemen selected ahead of Thome were Todd Helton of the Colorado Rockies (.358 AVG, 33 HR, 117 RBI) and Richie Sexson of the Milwaukee Brewers (.272 AVG, 45 HR, 124 RBI). Barry Bonds was the starting DH for the National League. All three players were deserving of an All-Star nod that season. You couldn't tell me that Jim Thome wasn't deserving to be a DH off the bench for that All-Star squad? He finished 4th in N.L. MVP voting that season, which actually seemed fair to me. His Phillies went 86-76 and finished five games behind the eventual World Series Champion Florida Marlins for the National League's Wild Card berth.
There were other seasons where you could argue that Jim Thome should have made an All-Star team and/or finished higher in that season's MVP voting. The 2001 to 2003 seasons were the most egregious, in my opinion.
Still, why was…is Jim Thome overlooked among the greatest power hitters in baseball history? He was obviously an All-Time great. Was it because he played in a so-called small market like Cleveland (no offense, Cleveland)? Is it because he never won a World Series? Is it because he was on successful teams with bigger-name stars or multiple All-Stars? Is it because he wasn't flashy or fiery? Is it because he wasn't controversial or self-promoting? Is it because he was a nice guy? The answer could arguably be, well…all of those reasons.
Is it because Jim Thome might have used PEDs?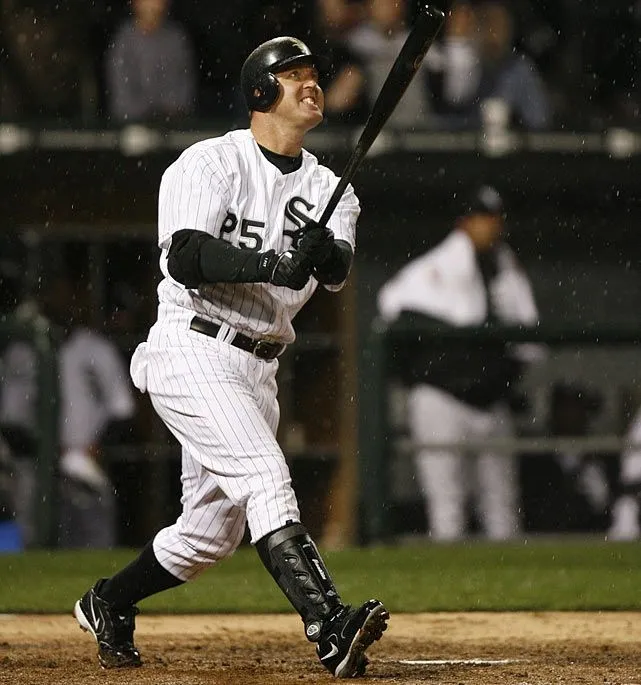 Thome had some great seasons with the White Sox from 2006-2009
Well, Jim Thome did NOT use PEDs. At least no one could prove that he used them because he never tested positive for PEDs. He was considered "country strong." Thome was a class act and even won the 2002 Roberto Clemente Award (for sportsmanship, community involvement, etc.). The man was a winner, and his teams often made the Postseason. Thome was someone you could count on in the clubhouse to produce in the lineup, to get on base, and to be a threat to hit the ball out of the ballpark every time he entered the batter's box.
Jim Thome IS one of the greatest power hitters in the history of Major League Baseball. Do I put him ahead of guys like Pujols, Griffey, A-Rod, and "Big Papi?" I don't know about all that. What I do know is that Jim Thome deserves his flowers. It's time that we mention his name more among the best power hitters of all time.
Thome can do without the recognition. He's never needed it. But he certainly deserves it.
Photos Courtesy: Flickr.com