LeBron at 38

LeBron James celebrated his 38th birthday back on December 30th. Most 38-year-old men celebrate their birthdays with a nice dinner and some drinks with their friends/significant other and may need a couple of days to recover from a night out. Many guys at that age can't "hang like they used to." Whether you love him or hate him, LeBron James is not your typical 38-year-old man.
I don't doubt that he, too, needs a day or so to recover, but it's for completely different reasons. Remarkably, "The King" can still hang still with the younger guys. He hasn't stopped "hanging" since October 2003. James celebrated his 38th trip around the sun by leading the Los Angeles Lakers to a 130-121 win over the Atlanta Hawks. The Lakers surely would not have emerged victorious if it weren't for his 47 points, 10 rebounds, and 9 assists. Most guys LeBron's age can't even get up and down the court during a rec league pickup game. This guy is still one of the NBA's best players at 38.
James followed up his birthday day performance by posting a 43-point, 11 rebounds, and 11-assist triple-double three nights later. More importantly, it was in another Lakers win this time against the Charlotte Hornets. The Los Angeles Lakers need everything that LeBron can give them, with Anthony Davis still out due to injury again. They have a record of 19-22 and currently sit 12th in a very competitive Western Conference at the time of this article. The Lakers still have Russell Westbrook, who has shined in his new Sixth Man role, but the rest of their roster doesn't necessarily intimidate anyone.
LeBron's recent performances against the Hawks and Hornets aren't isolated incidents. You could argue that the man is the dictionary definition of consistency. LeBron James has averaged at least 25 points, 6 rebounds, and 6 assists per game for the last 19 seasons. NINETEEN SEASONS! Most NBA players' careers don't last five seasons, let alone nineteen. So far in the 2022-23 season, James is averaging 29.1 points, 8.2 rebounds, and 6.7 assists per game. Here's how LeBron's age-38 season per game averages compare with those of ten other Hall-of-Famers during the season when they turned 38…
Kareem Abdul-Jabbar – 22.0 points, 7.9 rebounds, 2.1 blocks (All-Star, won the championship)
Tim Duncan – 15.1 points, 9.7 rebounds, 1.9 blocks (won championship)
Patrick Ewing – 9.6 points, 7.4 rebounds, 1.2 blocks
Michael Jordan – 22.9 points, 5.7 rebounds, 5.2 assists (All-Star)
Jason Kidd – 7.9 points, 4.4 rebounds, 8.2 assists (won championship)
Karl Malone – 22.4 points, 8.6 rebounds, 4.3 assists (All-Star)
Reggie Miller – 10.0 points, 3.1 assists, 40.1% 3-point percentage
Hakeem Olajuwon – 11.9 points, 7.4 rebounds, 1.5 blocks
Robert Parish – 14.1 points, 8.9 rebounds, 1.2 blocks
John Stockton – 12.1 points, 8.6 assists, 1.7 steals (All-Star)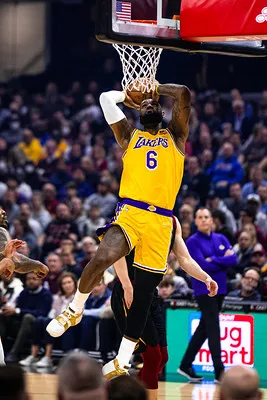 LeBron's performance at age 38 is defying not only "Father Time" but logic as well.
Michael Jordan's record of highest scoring average during his age-38 season will be broken this season. "The King" will post the best statistical season of any 38 year-old NBA player in the history of the league barring something extremely drastic. Kareem Abdul-Jabbar was an All-Star and was a key player on the Lakers' 1985 Championship Team in his age-38 year season. James will surely be selected to the NBA's All-Star game for the 19th time this season, which would put him in a tie with Abdul-Jabbar for the most career All-Star selections. I'm not sure a championship is in the cards for this year's Lakers, though. LeBron is closing in on another one of Abdul-Jabbar's records but more on that in a minute.
How does the Lakers' superstar's performance measure up against other players close to his age today? LeBron James is the 3rd oldest player in the NBA this season. Only the Miami Heat's Udonis Haslem and the Golden State Warriors' Andre Iguodala are older than LeBron. Haslem only sees the in-game floor action in limited cameo appearances. He's either forced into action in an emergency situation or during a blowout. Iguodala just appeared in his first game of the year on Saturday. He played 12 minutes and didn't attempt a shot. The Warriors veteran swingman is expected to have a limited role in the Dubs' rotation going forward…which makes what LeBron James is doing even that more remarkable.
So how in the world is he doing it???
Resources available to players have evolved over the years to help the modern NBA player. Both the amenities that NBA teams provide to its players and various technologies have changed over the past 40 or so years. For starters, NBA teams were still flying commercial and sitting in coach. I'm 6'2'' and have long legs. Long flights in coach are a challenge for me. I can't imagine how Kareem Abdul-Jabbar at 7'2'' could ever sit in coach! Have you ever tried running through a cloud of secondhand smoke? Smoking was allowed in NBA arenas back in the day. The old Boston Garden and Chicago Stadium could have been mistaken for the world's largest ashtrays.
Remember the old Nike commercial for Air Jordan basketball shoes featuring Spike Lee as Mars Blackman? If you're under 40 years old, then probably not. Lee's character Blackman keeps telling Michael Jordan, "Is it the shoes? Money, it's gotta be the shoes!" Mars Blackman has a point. Back in the day, basketball players used to wear Chuck Taylor Converse shoes. These were basically canvas shoes with a rubber sole. They weren't exactly ideal for one's knees and ankles. Then, basketball shoes evolved into leather and suede with slightly improved soles. Later, technology brough came high-tops, Pumps, something called "foamposites," air pockets, Nike Shox, AdiZero, and the shoes of today. Imagine players today playing in the original Chuck Taylors!
Players today have certain things easier today than their forefathers, just like everyone else.
LeBron James utilizes any tool or information available to him at his disposal to help maintain his body. In fact, he does it to the tune of a reported $1.5 million per year. Sure, the man can afford it but still! If there is advanced technology or some sort of science that either helps towards recovery, maintaining, or enhancing one's boy chances are LeBron James is doing it – or he has at least tried it. Some of what "King James" uses included Hyperbaric chambers to help increase his oxygen, Normatec leg boots for recovery, and special high-performance compression clothing to help increase blood flow. He has also invested in chefs and nutritionists to help maintain a strict diet. There are masseuses, trainers, and even scientists on the King's payroll. No joke.
Most important of all, the man works. Hard. LeBron's trainers put him through a strategic 5-workout per week schedule. He reportedly scales those workouts down slightly during the season…to four days a week. All of this sounds maniacal, doesn't it? The money spent, the time invested, AND the discipline needed to follow through on a strict routine is not something the average person is willing to endure for anything – let alone to play a game. This tells me two things about LeBron James: he wants to keep playing at a high-performance level for as long as possible. Number two…
LeBron James WANTS to be great.
James is on the verge of becoming the NBA' all-time leader in points scored, despite considering himself a pass-first player.
Please don't misinterpret that last sentence. Whether you love him or hate him, there is zero doubt that LeBron IS great. I'm simply telling you he wants to achieve greatness. Badly. How else can one logically explain the lengths to which he has gone over the past 20 years to be an NBA superstar? All of the greats in all sports have some sort of maniacal discipline and/or motivation that makes them great. Forget the money invested. THAT is what makes these athletes great.
That formula worked for LeBron James pretty damn well. The kid from Akron has built himself quite the trophy case, which includes four championship rings. James has broken many records and continues to set new marks in numerous categories. Oh yeah, there's another record that the great Kareem Abdul-Jabbar holds that he's closing in on, the NBA's most career regular-season points. LeBron is just over 400 points away from passing Abdul-Jabbar for number one on the list. He's currently on pace, assuming he stays healthy, to break "Cap's" 39-year-old record in early February. My personal guess is that LeBron passes Kareem sometime between February 7-11.
While other NBA players his age are simply trying to hold on for another year, LeBron James is still one of the best players in the league. The story of his career is arguably one of the most remarkable sports stories of all time. His longevity and consistent All-Star-level play are something that we have never seen before in the NBA. Tom Brady is the only other sports comparison and athlete who has done James one better. TB12 is still playing in the NFL at 45 years old! He's getting ready to lead his Tampa Bay Buccaneers on what he hopes is another long playoff run.
How long will LeBron's run in the NBA last? Who knows. He has said in recent years that he wants to play with his son, Bronny. LeBron's eldest son is currently a senior in high school. Using that logic, one figures that we have at least two more seasons of LeBron in the NBA. There has only one father-son duo to play together in Major American Professional sports – Ken Griffey, Sr. and Junior with Major League Baseball's Seattle Mariners in 1990 and 1991. Imagine LeBron and Bronny sharing the court. That would be a cool thing to see the first father and son playing together in the NBA. You can be sure the Griffeys will be sitting courtside at that first game. They have already said as much.
Enjoy LeBron James playing in the NBA while you can, even though it's entirely possible he continues playing for a while. Love him or hate him, the man IS one of the greatest NBA players of all time. He's currently doing things and at an age that has never before been done in the league's history. Take a moment to appreciate greatness. It doesn't come around every day. It doesn't last forever, either.
Maybe 38 is the new 28. Hell, I'm only seven months older than LeBron. Maybe I can still lace up my Air Jordans and get out on the court. My game at 38 may not be as pretty as that of King James, but it wouldn't be the worst DECISION ever, would it?
I couldn't help myself. In all seriousness - good luck, LeBron.
(Photo Credits: flickr.com)