March Madness: Filling out your 2023 NCAA Tournament Bracket

This is the best time of the year if you are a basketball junkie like me. It's time for March Madness, otherwise known as the NCAA Tournament. People fill out millions of brackets each March hoping that they can correctly predict the correct Final Four teams AND the school who will win it all. We hope to win our respective pools with friends and/or co-workers to earn a couple extra bucks, but what we really want is bragging rights. That's more important to most people than their own alma mater or favorite school winning the championship!
There were 68 teams selected to participate in the 2023 Men's NCAA Tournament earlier today. 32 of those 68 teams punched their automatic ticket to "The Dance" by winning their respective conference tournaments. The other 36 teams were at-large teams selected by the NCAA selection committee based on several factors. The job of the committee is to select the 36 best "other" teams in the country for the 2022-23 season. Do they always get it right? That's another story for another day…
As the years go by, the parity in College Basketball grows. It feels to me as if it's gotten more and more difficult to fill out a bracket with any accuracy. For perspective, North Carolina was the preseason #1 team after losing in last year's title game. They didn't make it to this year's tournament. (My first tip in filling out your bracket this year: Don't pick the North Carolina Tar Heels.) There aren't as many dominant teams today as there have been in the past. I don't see the UCLA Bruins of the Wooden era, the '76 Indiana Hoosiers (still the last Men's team do undefeated for an entire season), the 1990 UNLV Running Rebels or even the 2007/2008 Florida Gators (the last team to win it all back-to-back) in this field. The strongest mid-major teams have caught up to many teams in power conferences.
So what are the odds of someone filling out a perfect March Madness bracket according to the NCAA?
Oh, just 1 in 9,223,372,036,854,775,808. In other words, approximately 1 in 9.2 quintillion.
So, you're saying there's a chance? It doesn't stop us from filling out brackets each year, does it? I've decided to do my part in putting together a guide to this year's tournament. That way, you don't have to try filling out a bracket based on seeds, mascots, or team colors. Here are some factors you want to keep in mind when filling out your bracket.
The #1 Seeds:
You might be tempted to pick all #1 seeds to make the Final Four. Here's why that's a bad idea: Since 1985, there has only been ONE Final Four made up of all #1 seeds. It happened in 2008, with Kansas, Memphis, North Carolina, and UCLA being the last four teams' standings. In other words, don't pick all #1 seeds. Here are this year's #1 seeds.
Alabama Crimson Tide - Alabama is the tournament's overall #1 seed this year, meaning the Selection Committee believes that they are the best team in the nation coming into the tournament. They've overcome adversity recently to win both the SEC Regular Season Title and the SEC Conference Tournament in convincing fashing. Freshman Brandon Miller is THE player to keep an eye on for Alabama.
Houston Cougars - Houston was ranked #1 in the country going into Conference Tournament play. Then, they lost star guard and American Athletic Conference Player of the Year Marcus Sasser to a groin injury. The Cougars missed him as they lost the AAC tournament to the Memphis Tigers. Sasser's status for the NCAA Tournament
Kansas Jayhawks – Did you know that the Jayhawks are the defending champs? I feel that hasn't been talked about enough. Kansas won the Big 12 Regular Season Title but lost big in the Big 12 Conference Tournament Final to Texas. The biggest story heading into the tournament is the health of Head Coach Bill Self. Self missed the Jayhawks' last three games due to a heart issue. He's been released from the hospital and is expected to coach in the tournament.
Purdue Boilermakers – Purdue was ranked at the top of the polls for eight weeks in 2022-23. They won the Big Ten Regular Season and Big Ten Conference Tournament (barely). Big man Zach Edey is the front-runner for National Player of the Year. The Boilermakers will go as far as Edey takes them. Purdue only has two other players who have averaged in double figures this year. Both are Freshmen guards.
#1 Seed most likely to win it all: Alabama
#1 Seed most primed for an upset: Purdue
I hope I'm wrong about Purdue. I'm a Purdue grad and haven't seen them make a Final Four in my lifetime. I still haven't gotten over the Elite Eight overtime loss to Virginia in 2019. Anyway…
The Top Four Seeds In Each Region:
Picking among the top four seeds in each region is usually a good idea. Of the last 148 teams to make the Final Four, 122 (or 82.4%) of them were a top-4 seed from their respective region. The data says these are the teams to pick to go to the Final Four. The data doesn't play the games. Nor does it take the approach that Hall-of-Famer Bill Walton does. According to Walton, a Wildcat never beats a bear – primarily a Bruin. I guess last night's Pac-12 Championship Game was an exception.
Here are the top-4 seeds by region in this year's tournament. Chances are that four of these teams will be playing in Houston later this month.
South Region:
Alabama
Arizona
Baylor
Virginia
Midwest:
Houston
Texas
Xavier
Indiana
West:
Kansas
UCLA
Gonzaga
UConn
Midwest:
Purdue
Marquette
Kansas State
Tennessee
The Nation's Best Conferences:
Cinderella makes her presence known in the tournament each year. She barely sticks around long enough for the Final Four. Chances are that teams from the so-called Power Conferences will make up the Final Four field. That's not to say a Cinderella CANNOT make it to the last four in Houston this year. It happened in 2006 with George Mason, Butler (2010 and 2011), VCU in 2011, and Loyola Chicago in 2018. I'm just telling you, it probably won't happen.
Here are the Conferences with the most teams selected to play in this year's NCAA Tournament. For what it's worth, the talking heads on TV say that the Big 12 and SEC were this year's best conferences. Then again, the talking heads don't always get it right, either.
Big Ten: 8
SEC: 8
Big 12: 7
(tie) ACC/Big East: both with 5 teams
Injuries to Key Players:
Unfortunately, the injury bug has bitten several teams with high hopes heading into the tournament. These are teams you might want to think about avoiding picking to go far in your brackets.
Houston – If Marcus Sasser's groin hinders him or even prevents him from playing, it could mean an early exit for the Cougars. His absence was obvious in Houston's 75-65 loss to Memphis in the AAC title game.
Miami – Norchad Omier went down in the ACC Tournament semifinal against Duke. The Hurricanes' big man averages 14.1 points and 10.0 rebounds per game. If their best post player and the interior defender can't go, it could mean an early exit for Miami.
UCLA – The Bruins had not one, but TWO players suffer key injuries in March. Guard Jaylen Clark is out for the year due to an Achilles injury. Big man Adem Bona injured his shoulder in the Pac-12 Tournament semifinal. His status for the NCAA Tournament is currently unknown.
Tennessee – Star point guard Zakai Zeigler is out for the season with a torn ACL in his left knee and will miss the tournament. The Volunteers have gone just 1-2 so far with Zeigler out. It's hard to imagine that they will go far in the NCAA Tournament.
Other Teams to Watch:
Memphis – Head Coach Penny Hardaway is leading a somewhat experienced group into the Tournament for once. After winning the AAC tournament over #1 Houston, this could turn out to be Hardaway's best Memphis team so far.
Michigan State – Tom Izzo ALWAYS manages to get his Spartans into the NCAA Tournament. They always have a tough schedule to prepare themselves for March. This isn't Izzo's best team by far, but don't be surprised if they win a game or two.
Duke – This isn't Coach K's Duke Blue Devils anymore. New coach Jon Scheyer has Duke playing its best basketball heading into the tournament. His Duke team, led by Freshman Kyle Filipowski, is young but is poised to make a run.
Kentucky – Coach Cal's Wildcats are a 6-seed and have had an underwhelming year. They still have preseason Player of the Year Oscar Tshiebwe and a talented starting five. Kentucky doesn't have much after that but could catch lighting in a bottle.
Gonzaga – Is it me, or is no one really talking about Gonzaga? That's probably how Mark Few and the Zags prefer it. It seems like Senior forward Drew Timme has been at Gonzaga forever. He and the Zags have another chance to make a Final Four run.
Charleston – You read that right: Keep an eye on Charleston. The Charleston Cougars went 31-3 and earned a 12-seed. They have five players averaging double figures in points, led by guard Dalton Bolon. The Cougars have over 80 points per game and are a relative unknown. This could be a Cinderella team.
Upset Picks:
The 5 versus 12, 6 versus 11, and the 4 versus 13 seed games are prime for an upset watch every year. Here are some of the upsets I'm going with this year:
13-seed Furman over 4-seed Virginia
12-seed Charleston over 5-seed San Diego State
12-seed Drake over 5-seed Miami
11-seed Pitt over 6-seed Iowa Seed (assuming Pitt beats Mississippi State in the play-in)
12-seed VCU over 5-seed Saint Mary's
13-seed Louisiana over 4-seed Tennessee
8-seed Iowa over 1-seed Houston (assuming they beat 9-seed Auburn first)
10-seed Boise State over 2-seed UCLA (assuming they beat 7-seed Northwestern first)
My Picks and Bracket:
I'm just going to put out my bracket for the world to see. I may look like a genius or look like a complete fool next week. Either way, you know the changes for getting a perfect bracket. Here are my picks for the NCAA Tournament in detail, by bracket.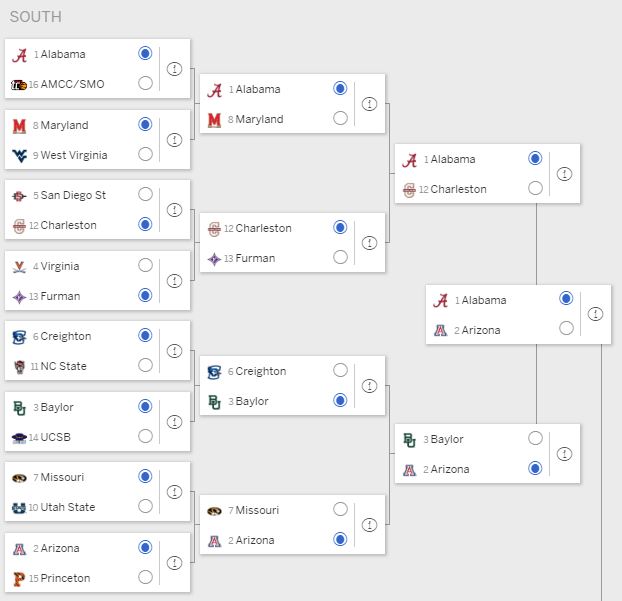 My Final Four: Alabama, Marquette, Texas, Gonzaga
Championship Game Prediction: Alabama vs. Gonzaga
My 2023 NCAA Tournament Champion: Alabama Crimson Tide
Selfishly, I want the Big Ten well-represented throughout the tournament and Final Four. I hope that Purdue gets to the Final Four, but I don't see it happening. Alabama has been the strongest and most consistent team all season. I wouldn't be surprised to see the Crimson Tide cutting down the nets in Houston in a few weeks. We shall see. I could be wrong about all of this…
Complete your brackets wisely, my friends. Best of luck everyone this March Madness!!!
Photo Credit: Depositphotos