FOR IMMEDIATE RELEASE

Unwrap the Gift of Knowledge: Enjoy Free Access to 5th Degree Academy for 30 Days plus 50% off normal membership rates including a buy on bless one component to help serve at risk youth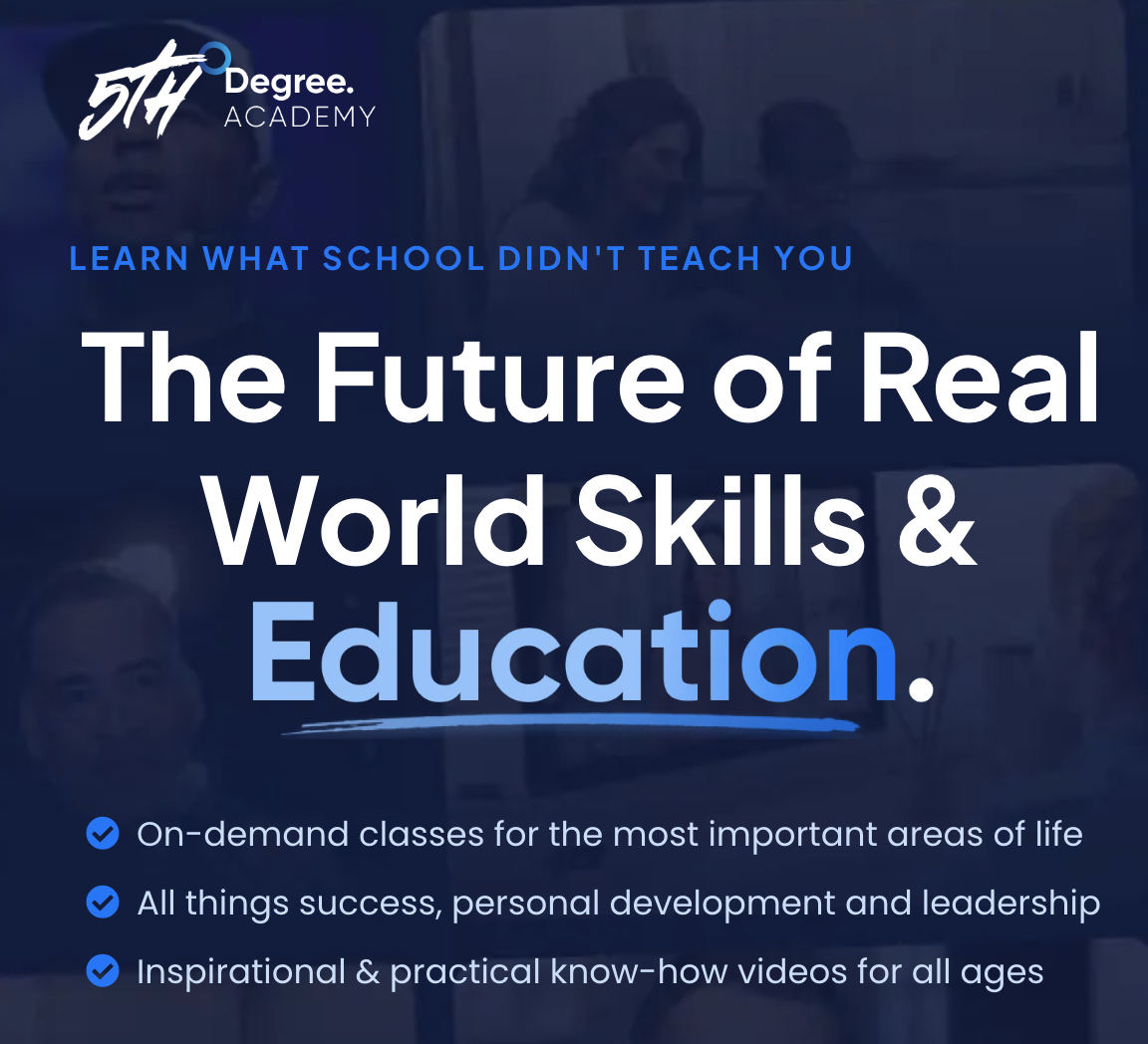 WHO: 5th Degree Academy, a pioneering educational institution founded by renowned thought leader Tim Storey and serial entrepreneur David Williams, invites individuals to embrace the spirit of National Entrepreneurship Month with a special holiday offer. 5th Degree Academy stands at the forefront of transformative education, bridging the gap between traditional learning and real-world skills. With a focus on practical knowledge in entrepreneurial skills, finance and investing, marketing and sales, faith and family, health and wellness, and preserving freedom, 5th Degree Academy empowers individuals to thrive in today's dynamic world.
WHAT: As a gift that gives back, 5th Degree Academy is providing full complimentary access to its comprehensive online platform for 30 days. This limited-time offer allows participants to explore a diverse range of on-demand classes and inspirational content, cultivating entrepreneurial skills, financial literacy, and personal development. In a glimpse, 5th Degree Academy's curriculum tackles the following topics:
Entrepreneurial Skills: Master the art of entrepreneurship without just learning theories.

Confidence & Mindset: Cultivate a mindset of hard work, leadership, and personal responsibility.

Finance & Investing: Acquire financial literacy and investment strategies for a secure future.

Faith & Family First Living: Learn to balance personal and professional life while maintaining strong relationships.

Marketing & Sales: Develop expertise in marketing and sales techniques for career growth.

Preserving our Freedom: Understand the importance of freedom and how to protect it.

Health & Wellness: Prioritize health and well-being for a fulfilling life.

Monetization & Strategy: Master the art of monetization and strategic planning.
WHEN: The special holiday offer is available now, providing an opportunity for personal and professional growth during this holiday season.

WHERE: This special offer is accessible online via the official 5th Degree Academy website: 5thdegree.com

WHY: This special holiday offer aligns with 5th Degree Academy's mission to bridge the gap between traditional education and real-world skills. As the world recognizes the importance of entrepreneurship during National Entrepreneurship Month, 5th Degree Academy stands as a beacon of hope, empowering individuals with the tools and confidence needed to navigate the challenges of the modern world. By taking advantage of this gift, recipients invest in their own growth and contribute to a community of lifelong learners, making this offer a gift that truly gives back.





###